The SleepCube BiLevel ST device (DV56) is designed to enhance the breathing of patients with spontaneous respiration. Unlike a ventilator, it will not completely take over the breathing for the patient, but instead helps a patient who has chronic respiratory failure, difficulty breathing, or obstructive sleep apnoea; it is administered via a mask and is non-invasive.
The device automatically synchronises with the patients' respiratory pattern, cycling between IPAP (inspiratory pressure) and EPAP (expiratory pressure).
The BiLevel ST can also be set to a timed mode, where the clinician sets the BPM (breaths per minute) and %IPAP; or it can be set to a combination of Spontaneous and Timed operation, where the unit cycles in response to the patient's breathing rate, but switches to the timed operation if the patient fails to take a breath within the timed interval.
Features


Pressure range of between 3 and 25 cm H2O
Three operating modes: CPAP, Spontaneous, Spontaneous Timed and Timed only
Smallest footprint of all leading CPAP devices with heated humidification system attached
SmartCode remote data compliance feature included, which encodes usage data into a series of letters and numbers that can be easily decrypted using free software or online at http://www.sleepcube.com
Among the quietest CPAPs on the market – only 26 dBA
Can be operated from a 12V DC source such as that found in a motor home (not with heated humidifier) and will switch automatically to AC power if connected and available
Auto-switching universal power supply of 100 – 240 V and 50 – 60 Hz, and automatic altitude compensation between 0 and 2600m (9000ft)
Large backlit LCD and easy to follow patient menu
Auto on/off automatically starts the flow of air on breathing into the mask and stops the flow of air when mask is removed
Delay pressure ramp eases the device to the prescribed pressure. Ramp delay settings of 0 to 45 minutes in 5-minute increments
Visual mask off alert feature
Supplied with 6ft tubing as standard. Optional 10ft patient tubing available
Large slip-resistant pads on bottom of unit minimise movement on the bedside table during the night
Patient air tubing extends from the back of unit to enhance visual appeal
Integrated heated humidification system easily docks onto the bottom of the unit without requiring a separate hose or power cord
SmartLink module and software available for more detailed patient therapy management. Data is transferred to the PC via SD card for further analysis and reporting using the SmartLink software package.
Flow rounding comfort feature included
Integrated event detection feature
Real-time display – LCD display shows actual pressure, leak rate and patient breathing parameters such as breath rate, I/E ratio, minute volume and tidal volume
Customisable trigger – the sensitivity of the trigger can be adjusted on a scale of 1 – 10 (1 being most sensitive)
SmartCode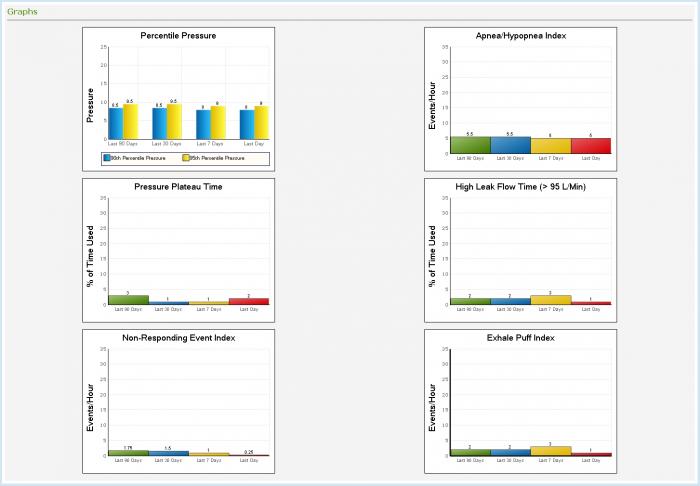 *NOTE: The Humidifier is an optional accessory, It is not included in the contents of this package.